Salesforce is a leading integrated CRM platform that business associates use to manage contacts and track sales activity, opportunities, and prospects. Businesses protect and maintain their brand image by providing personalised services to their customers. Salesforce chatbot integration enables companies to interact with customers 24/7 through a single touchpoint.
Chatbots let you seamlessly connect with the existing customer support to fulfil all the customer requests and perform the tasks. You can improve customer experience by responding to customer inquiries through digital channels and routing to the right agents. Integration with chatbots increases by 99% of customer satisfaction.
So, Let's explore how a Salesforce chatbot like Communicat-O integration is increasing customer retention.
Salesforce Chatbot Integration to Meet B2B Demands
Chatbots in Salesforce can be custom-built to meet specific business needs in B2B environments. Let us have an overview of the major use cases where chatbots are playing an important role.
1. Enterprise Support – Businesses can integrate chatbots with a company's backend system like customer relationship management (CRM), warehouse management, or inventory management. Salesforce chatbot integration will enable the sales representatives to access the customer's phone number and other essential details quickly. 
2. Digital Personal Assistants – Salesforce chatbot integration will enable potential customers to navigate their daily lives and activities like ordering groceries and booking materials via mobile application.
3. Call Center Support – Customers can interact with an AI chatbot through a call centre application to perform tasks like requesting account balances, changing passwords, and scheduling an appointment.
How do chatbots help with customer retention?
Chatbots can serve the needs of customers without any human intervention. Additionally, these bots are powered by predefined business logic, learned mechanics, and different conversation scripts. 
The feature allows the bot to greet and converse with customers, discern their needs, and provide valuable information within the Salesforce organisation. 
With the advent of these bots, companies suggest that live service agents spend more time helping customers with complex issues in a more customised manner. Plus, it allows agents to be more productive and focused. As a result, chatbot integration is the future of chat and customer support.
How do Chatbots work? 
A simple chatbot system works by parsing the customer input. Then, the system scans the database for content related to the output. Simply put, a chatbot operates like a document renewal system mainly focused on the input keywords. 
For instance, an apparel company may create a customer chatbot that focuses on the user's questions related to clothing preferences and recommended products. 
A well-designed CRM (customer relationship management) tool like Salesforce lays the foundation for 24×7 single touchpoint customer interactions. And this is now possible by integrating Salesforce Chatbot Communicat-O into your businesses and boosting customer retention.
How Communicat-O chatbot can lead to a better customer experience.
1. Investing in strategies aimed at customer retention needs to be genuine. Moreover, effort and resources should convert into fruitful results. Finally, it requires proper synchronisation with the client's demands and your business ability. 
2. Today businesses are racing to offer a seamless consumer experience. Nearly 86% of buyers are ready to pay more for a good consumer experience. Therefore, companies must focus on providing uninterrupted consumer journeys, enabling diverse marketing and platform-independent accessibility. 
3. The driving force of marketing today can be seen in online feedback and social media marketing. CRM systems on the cloud enhance brand loyalty among buyers. Moreover, AI-enabled insights help in anticipating problems and addressing them beforehand. 
Benefits of using Salesforce chatbots integration
1. The Covid pandemic has changed the whole narrative of customer service. Brands today look beyond services and want to connect with customers emotionally. And as online sales increase, customers look for familiarity and flexibility. Bots are perfect for this as they can have one-to-one conversations to communicate the brand value. 
2. With chatbots, you can get the lead to the sales funnel. Many pre-built templates will help you, especially the customer support chatbot templates. Also, like leads, you can enhance the employee onboarding process using the HR chatbots. 
Are you looking for how you can integrate Salesforce Chatbot, then no worries you are at the right place, we can help you with that. Communicat-O is a powerful 
salesforce app
, you can integrate it with your salesforce CRM and with Communicat-O you can connect with all your social media accounts, channel in a single app to communicate with your customers. 
Contact Us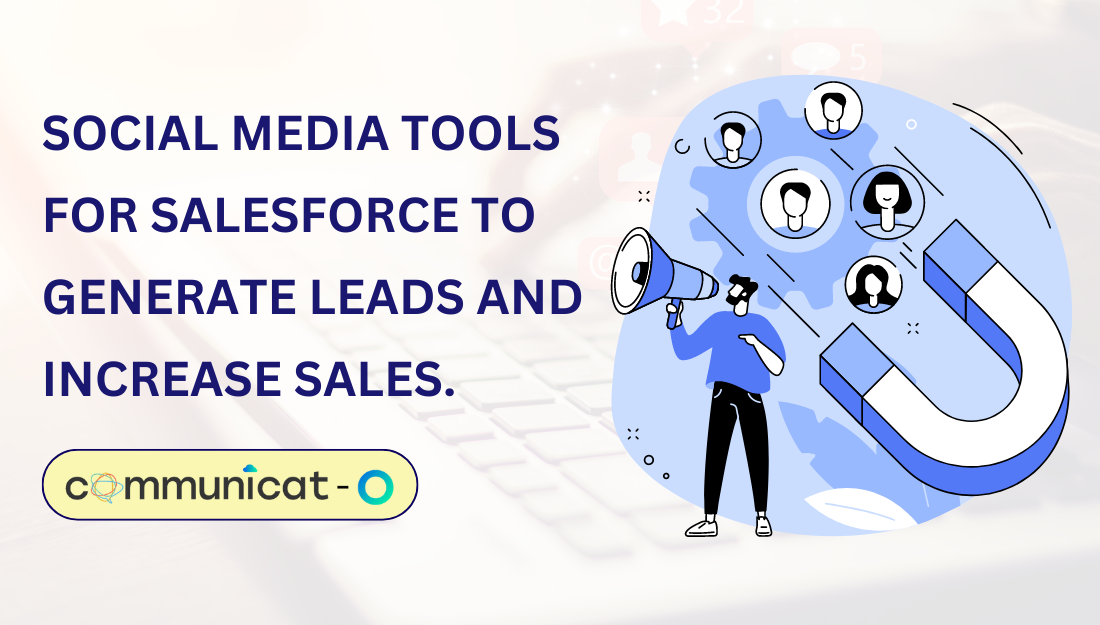 Social media has revolutionized the way businesses interact with their audience. It has become the most powerful tool for generating leads and increasing sales in
Read More »
Use Salesforce's multi-channel tool to create custom social media profiles for your sales team. As our best times to post on social media shows, brands
Read More »
As businesses continue to expand their customer base, it becomes increasingly challenging to maintain effective communication with each individual customer. Salesforce text automation can help
Read More »