The COVID-19 pandemic has brought to light, the need for a sound crisis communication plan. By keeping such a plan ready, businesses can quickly reach their customers, staff, and other stakeholders. It can also buy them some time to align themselves to the changes. The key is to create a crisis communication plan that extends across all channels and answers the questions that plague the customers' minds.
How to communicate when nobody has a clue?
The pandemic has shown us that while we cannot change a situation, we can definitely choose how to respond to it. This is true for all organizations dealing with a crisis. In this article, we discuss four key steps that can help organizations lead their customers through testing times and communicate with empathy.
Understand the customer
Effective communication begins with understanding the customer. Using a Multichannel messaging tool for Salesforce CRM, organizations can analyze customer data for insights and then send personalized communication to different customer segments. Integrating Salesforce with Multichannel Chats along with your organization's communication plan helps it to harness the power of advanced analytics and understand customer needs. Companies can also create personalized all Social media chats in Salesforce CRM in one place and send them to customers automatically.  
Address key issues proactively
It is during a crisis that customers might be waiting to hear from a brand. Proactively announcing the issues that they could face, will let customers know that the company is aware of their challenges. It will also free the customer service channels from getting inundated with calls and complaints. Multichannel Integration in Salesforce CRM also helps firms to get all their communication consistent and reach every customer using different channels such as email, SMS, Whatsapp, WeChat, Facebook Messenger, Twitter, Telegram, or website, etc.   
Keep customers updated
In addition to addressing customer issues, companies must also keep them updated on every change that might affect them. Transparency in communication evokes trust and helps customers feel comforted in spite of the uncertainty in the air. Social Media chat Integration with Salesforce CRM can help in sending regular automated messages to existing customers of their choice to keep them in the loop and updated.  
Let them be heard
Firms can keep two-way channels of communication, active so that customers have a way of getting in touch with them. This can be done by creating online communities where customers can interact on the moderated discussion threads. Companies can also provide customers with the option of chatting with live agents on their website or social channels using live chat integration with Salesforce. The key is to be easily accessible and proactively help customers solve queries.  
When customers face emotional or financial instability, a strong brand delivers a message that generates confidence and provides a positive customer experience. A crisis communication plan can be executed efficiently by leveraging the Salesforce platform. In fact, Salesforce tools like Communicat-O can help businesses create segmented customer profiles and regularly send personalized messages to them to keep them updated. It helps customers feel included and gives brands an opportunity to stay connected with their audience.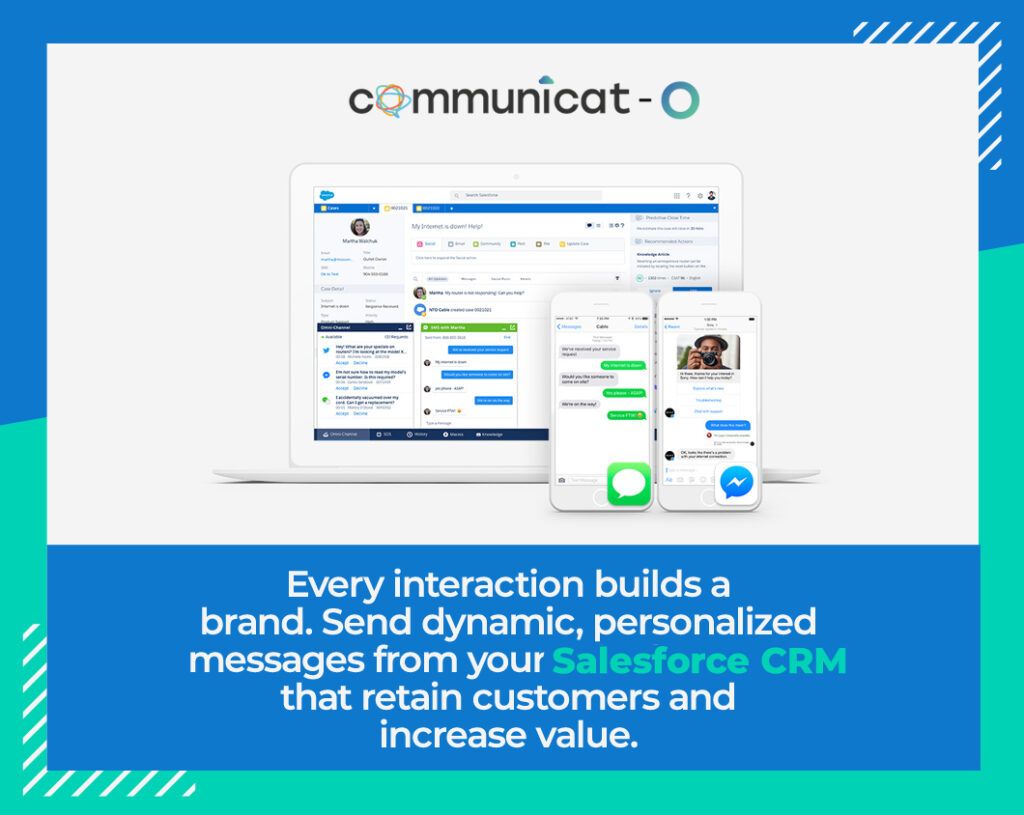 So, centralize your customer communication by Multichannel integration with Salesforce in just few steps!!
Speak and be heard.
Read and respond.
On every channel.
Access every communication channel your customers use and love. Integrate seamlessly with your existing Salesforce CRM to leverage powerful, pre-built integrations within Communicat-O!!!