GlobalWebIndex's Social Media Trends 2021 report reveals that 43% of buyers research products online via social networks and 23% of buyers believe that lots of likes and good comments would increase their chance of purchase. These numbers highlight the need for your business to have deeper and continuous engagement with customers on your social media handles. 
Now, it is understandable that it could get challenging to engage with every customer across different social media channels. You could end up missing replying to a comment or DM, and eventually, lose a potential customer or adversely impact your customer service standards. The good news is that you can easily avoid such a scenario by integrating your Salesforce with your social media profiles. 
Benefits of Salesforce-Social Media Integration 
Hyper-Personalized Communication 
Live chat integration with Salesforce can help you communicate promptly and effectively with every customer to resolve their queries. You can manage their journey with your brand in real-time on a one-to-one basis. 
View All Conversations at One Place 
Salesforce provides you with a single dashboard tool. It enables you to manage all your social media profiles as well as customer interactions and activities directly at a centralized location across all customer touchpoints. 
Get Actionable Business Insights 
Salesforce integration with your social media profiles also helps you to aggregate and analyze information from all channels at one place. This gives you a comprehensive insight into customer behavior and market trends. Such detailed insights further empower you to rework your marketing strategy/campaign, make informed business decisions and leverage new business opportunities swiftly. 
Manage Sales Funnel Effectively 
You can customize your offerings according to the customer's point of the journey in the social media sales funnel – prospect, lead, sales call, follow-up, conversion or closing. This becomes possible because live chat integration with Salesforce helps you to store and access customer's social journey with your brand on a single dashboard. You can understand customers' likes and dislikes and offer solutions accordingly. 
Improve Brand Awareness and Positioning 
When you have an active presence on social media, customers realize that you are keen to provide a seamless customer experience. This creates awareness about your brand in the market and positions it well against the competitors. In turn, it also increases traffic to your website and other digital channels.  
Get Higher ROI on Marketing 
The integration helps you to increase the number of leads and lead conversions, and thereby meet or exceed your marketing goals. A higher marketing ROI also means that your marketing program is cost-effective. 
Salesforce integration with social media profiles can take your business to new heights because a powerful multichannel messaging tool for Salesforce like Communicat-O can transform customer communications hassle-free and speedy without arduous coding or costly processes. 
Final Takeaway 
Communicat-O is a powerful Salesforce Social Media Messaging Tool that has been developed to meet the needs of different industries and business sizes.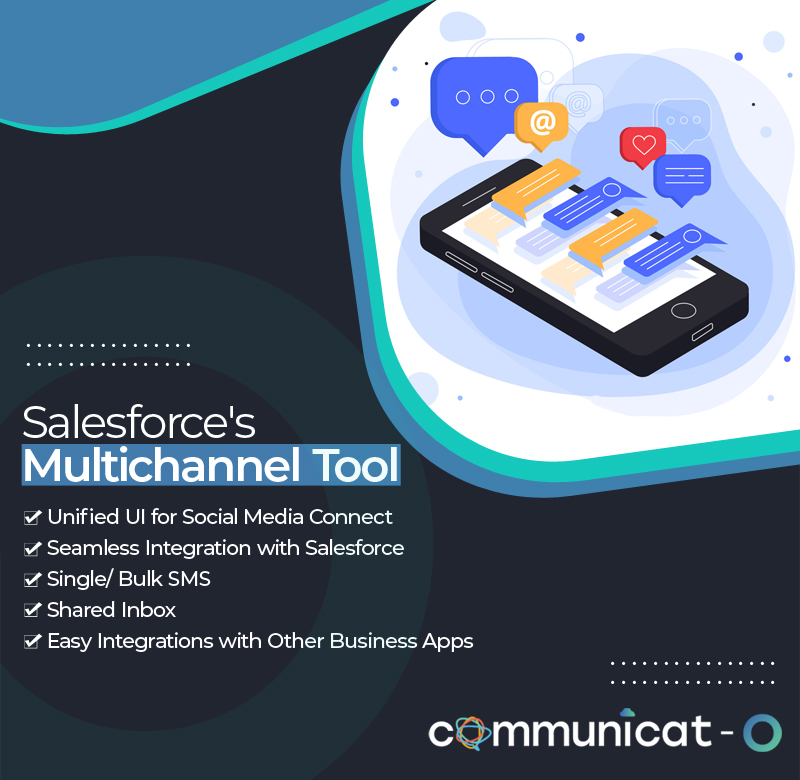 Now, What are you waiting for? 
Take a Free Trail of Communicat-O Today!