Communicat-O is a highly effective tool for business communication and integrated tool for managing social media messaging for Salesforce CRM.
Communicat-O, a multi-channel communication tool to your Salesforce CRM that integrates all information (messages, support requests, comments chat, etc.) across different social media and text messaging platforms into one seamless Platform. With a shared inbox, teams communicate with their customers, partners, and contractors efficiently and without hassle. Multiple employees do not have to coordinate communication or keep track of the different profiles that are public. This is an enormous benefit to marketers Salesforce CRM executives, and service managers who have to manage different profiles, platforms, and chat tools.
There are all the Power packed features for your organization
Unified Platform for all Social media interaction – Trying to navigate different social media platforms can cause you to miss many messages, resulting in unhappy customers and increased churn. Communicat-O can combine all of your social media platforms into one user interface. With the ability to share your inbox, you can be sure to engage with your customers on all of their queries and also make sure that every message is answered.
Real-time in-depth analytics – It is possible that you are putting in lots of money into an upcoming campaign, but how can you tell whether it's working properly? Analytics measure the modifications you make in how you market your business on social media. It is crucial for companies to react fast and take a proactive approach when making decisions about marketing and communicating. Communicat-O helps make these decisions easier through real-time-in-depth analytics and effective KPIs.
The Only Mobile ready solution – You don't need to be in the vicinity of a computer to use this application, it has all its features accessible. It allows you to send SMS from salesforce while on the move. Communicat-O is the one and only mobile-ready multi-channel social media salesforce SMS tool on the market.
Automated and Bulk communication – Multi-platform bulk messaging is an arduous task. it requires unique formatting and some platforms may not permit you to send out bulk messages. Thanks to the capabilities of AI and the latest technology in competition, Communicat-O has pre-configured responses to the most frequent questions the users typically encounter. You can also make bulk calls to all your customers in one single click, no matter which Platform they're to.
Assign Conversations – A few questions your customers ask you to answer could require specific technical expertise or the intervention of a particular team These messages are frequently ignored. Communicat-O allows you to assign conversations to different representatives which increases the visibility of your team members on the Platform while in the process, helping the customer better by allowing the specialist agent to resolve the problem.
Multi chat window – Social media isn't exclusively about personal message followers Communicat-O isn't just about your inbox. There are many other things you can do using Communicat-O. The multi-chat window opens and allows you to browse chats from anywhere. This feature allows you to multitask while working on other areas of the app.
Utility bar – Users can gain quick access to basic productivity tools such as most recently visited items as well as notes while text messaging with salesforce or performing other tasks using the tool. Communicat-O's user interface has been created to improve efficiency and functionality.
To know more regarding all the capabilities, please contact us.
Communicat-O provides tailored solutions for varied industries.
Communicat-O is an extremely powerful Salesforce Social Media & Text Messaging Tool created to meet the demands of different industries and sizes.
This list a few of the industries in which we can provide solutions.
Finance – Communicate with clients seamlessly at any time, from anywhere. scheduling appointments, gathering important details, and reminding clients of appointments has never been easier.
Education – Make text messages that are effective to attract students electronically. Automatically process student registrations. It is easy to send campus announcements as well as event reminders. lots more.
Sales – Engage and track a large number of leads efficiently. Create deeper profiles of your customers. Improve your sales communication and improve your ability to close deals more quickly.
Hiring – Speed up the hiring process through rapid screening of candidates and pre-qualification of applicants, and the placement of candidates who candidates. Involve candidates in personalized conversations.
Wellness – Give healthy tips, schedule and change appointments with patients, and enhance communication without hassle. Get more customers to sign up with well-designed promotional campaigns.
Real Estate – Create efficient messages for homeowners. Create detailed buyer profiles. Automate daily queries and scheduling, reminds properties alerts, as well as feedback collection.
So now you better understand why Communicat-O is a multi-channel messaging tool for your Salesforce CRM. All the integration with Salesforce like Salesforce Facebook integration, Salesforce Whatsapp integration, Salesforce SMS integration, etc is possible with the help of Communicat-O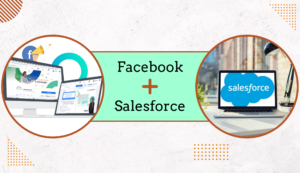 Facebook is the leading Social Media app in the world and Salesforce is the most popular CRM in the world. Salesforce and Facebook integration allows
Read More »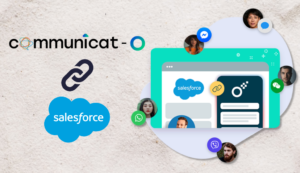 Let's have a look at how whatsapp integrated with salesforce CRM, can scale your business. Before we proceed with how to increase direct communication with
Read More »
Never miss a message with Communicat-O Because it is a powerful business communication and integrated social media management tool for Salesforce CRM. List Of Amazing
Read More »